Intel i7-8700K LAN BOX PC
This Intel i7-8700K based PC will be my new office 'production' machine. I have some plans in the works that will put this machine to VERY GOOD USE.
Intel Z370 motherboard with RGB Fusion, Digital LED support, Dual M.2, 120dB SNR ALC1220, Intel Gaming LAN, Front USB 3.1 Gen 1 Type-C & Rear USB 3.1 Gen 2 Type-C, Smart Fan 5, Anti-Sulfur Resistors

Supports 8th Gen Intel® Core™ Processors
Dual Channel Non-ECC Unbuffered DDR4, 4 DIMMs
Intel® Optane™ Memory Ready
ASMedia 3142 USB 3.1 Gen 2 with USB Type-C™ and Type-A
Front USB 3.1 Gen 1 Type-C™ Header
Multi-Way Graphics Support with Dual Armor and Ultra Durable™ Design
ALC1220 120dB SNR HD Audio with Smart Headphone AMP and WIMA audio capacitors
Intel GbE LAN Gaming Network with cFosSpeed Internet Accelerator Software
RGB FUSION with Multi-Zone Digital LED Light Show design, support digital LED & RGB LED strips
Swappable Overlay for Accent LED
Smart Fan 5 features Multiple Temperature Sensors and Hybrid Fan Headers with FAN STOP
Dual Ultra-Fast M.2 with PCIe Gen3 x4 & SATA interface
USB DAC-UP 2 with Adjustable Voltage
Anti-Sulfur Resistors Design
Ultra Durable™ 25KV ESD and 15KV Surge LAN Protection
Lightning-Fast Intel® Thunderbolt™ 3 AIC Support
APP Center Including EasyTune™ and Cloud Station™ Utilities
Why Not an i7-9700K?
I know, the cost difference is only about $15 so why not just get the i7-9700K. Maybe you have already guessed why! Yes, it's the number of threads. (9700K 8 threads vs. 8700K 12 threads)
The higher thread count was the deciding factor. Just Google 8700k vs. 9700k and you will see what I mean. I won't be using this hardware in a gaming capacity. My needs require the higher thread count for processing efficiency not video or sound.
The Hardware is Already on it's Way
I plan to assemble the machine over the weekend.
UPDATE: "Luck of the Irish"
07/16/2019
A little "Luck of the Irish" today. UPS delivered all the hardware to the wrong address! No problem they say! Only takes 3 to 5 days to resolve!
It's now 7 to 10 days to resolve. I think I would have the box already if the driver was able to retrieve it the next day. So that box is GONE! Now I have to re-purchase all the items.
The re-odered items are scheduled for delivery tomorrow.
Finally Putting It Together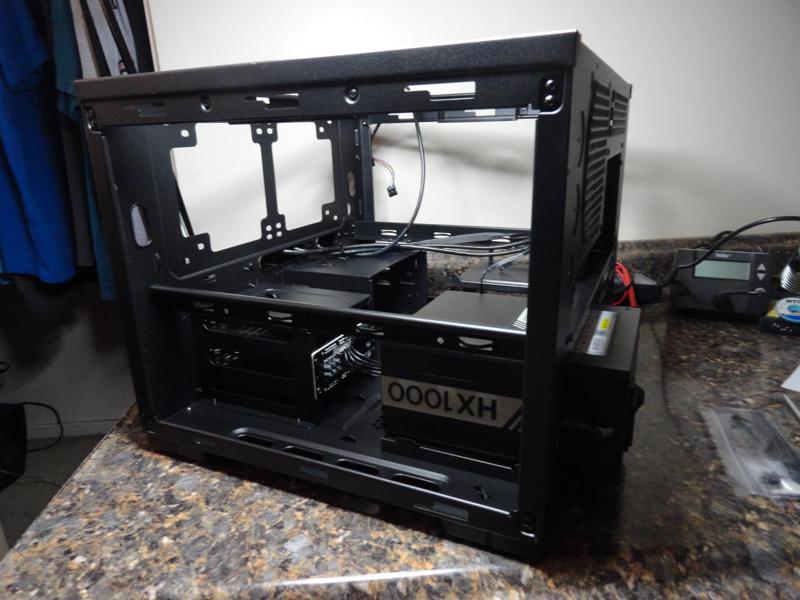 I found it easiest to install everything on the lower deck first. Once the motherboard tray goes in I wouldn't be able to fit my hands in there. Connections for the two hot-swap bays, the write-block, optical drive, and two Raid SSD disks were completed first. Once the cables were in place I mounted the power supply. The board went in next, and finally the water cooler.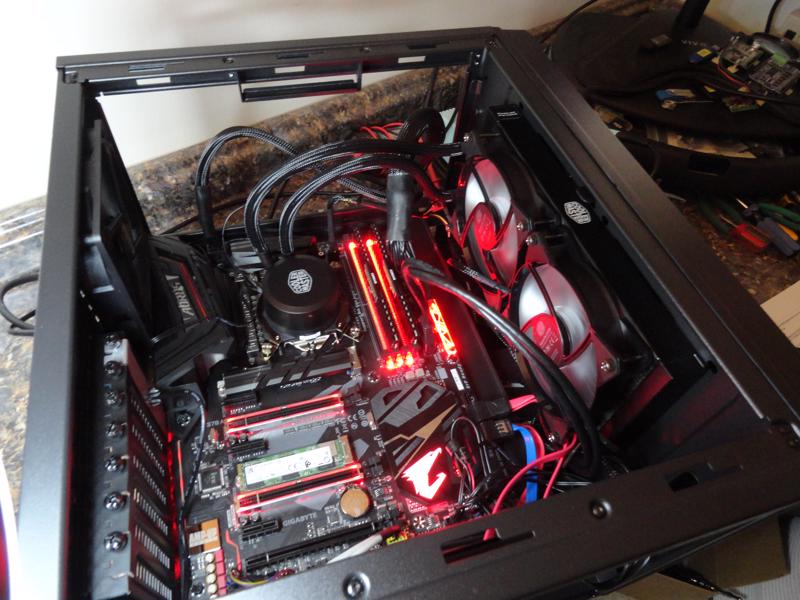 PCIe3 x4 Slot for Intel 660p 1T SSD
It turned out I was looking at the wrong document on the Gigabyte website during my research, and the version of the board I ordered did not include the Optane Memory. No big deal, as the system drive is a 1T PCIe 3 x4 SSD. This drive would certainly not require any 'acceleration'. As it is, the system boots in 5 seconds! No kidding! The manual calls this "Ultra Fast" boot mode. It delays some hardware initialization until after the OS is booted (among other things). Works for me!
2T RAID 0 File Drive
Dual Samsung 860 EVO 1TB SSD's configured for RAID 0 provide a 1.8T file space big enough to handle some the large 'input files' we'll be working on later. I anticipate some work may exceed 1T. For now this is a limitation, but not one that will present any real problem getting started. Needing more storage space would be a great problem to have!
Intel i7-8700K Does Not Disappoint!
The Intel i7-8700K cpu runs cool (within spec) and is blazing fast. During the first software run I noticed the cpu was running at +/-4.5ghz. Without a doubt the fastest cpu I've ever owned.
My first Experience with Liquid Cooling
The cooler went in easy and the pump was easily mounted to the CPU. I'm seeing 30 Celsius on the cpu which is right on target according to some of the information I've seen. I will most likely use nothing but liquid coolers from now on.
Hats Off to Cooler Master for the HAF XB EVO
This case is very well made. It has very precise tolerances in it's design and manufacture. I can't tell you how many cases I've worked on where the holes don't line up and the case flexes etc. etc. Not the HAF. Solid as a rock and every single thumb screw lined up perfectly! No wiggle or case bending required! I really like this case!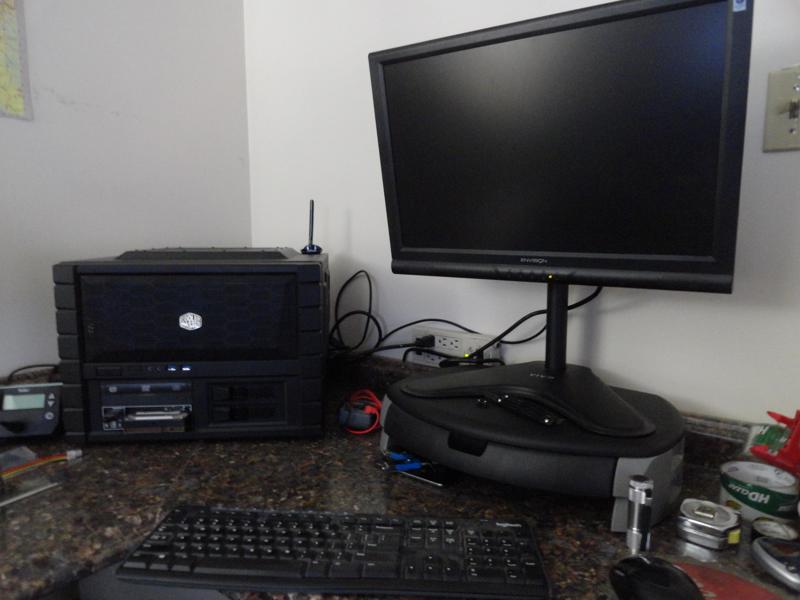 a Small monkey wrench!
The Windows 10 Pro 64 bit License Key I purchased on eBay showed up as already being in use. I have purchased a Genuine Microsoft DVD with COA that should be delivered in a couple of days.
While testing one of the software programs I was "kicked out" by Windows (the program was closed) and an "Activate Now" message flashed on the screen. Probably a 'special feature' for folks who try to activate using a previously used Product Key!
I'm going to postpone further software installation until I have the activation issue sorted out.
07/28/2019
P.S. Still no resolution to the lost package. I noticed the web results showing the "Signed for by Phillip" is no longer there! Good thing I took a photo of the screen! No worries, there's no POD for that box! Case closed! Just have to wait the MAXIMUM number of days even though the package had to be known to be un-recoverable by the following day. That was way back on July 17th! Way to go Newegg!
We'll see what happens on Thursday of NEXT week!
Friday 8/9/2019
Finally! That was one very long wait! July 17 to Aug 9th. Perhaps NewEgg needs to review their account with their UPS representative, so their customers aren't kept waiting so long for something that was verified lost the following day when the driver went back to get it! Totally unacceptable. But I have to give NewEgg a pass since it was UPS who lost it.