Just SCORED a used Green Heron RT-20 Rotator controller.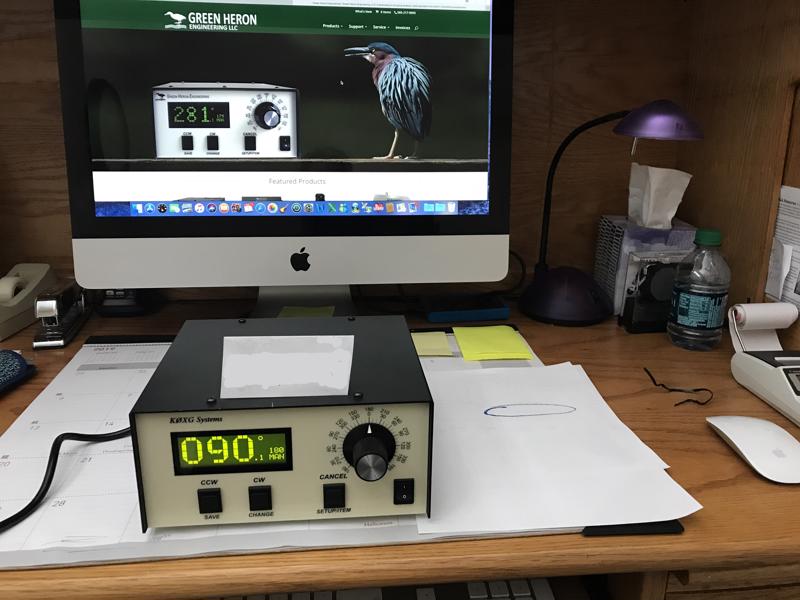 It's time to upgrade my HF antenna rotor controller.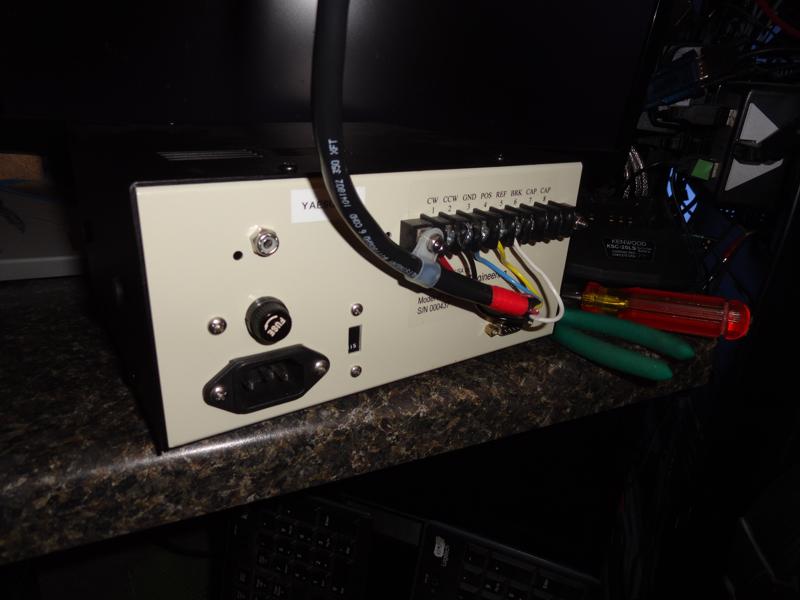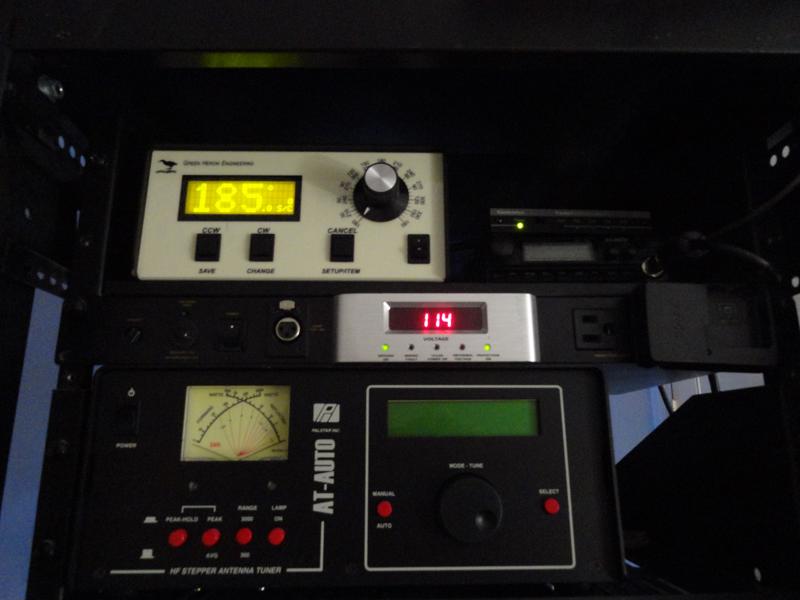 Update 11/14/19
I finally found some time to get the RT-20 wired up and into its place in the shack. The connection to the PC is working and tomorrow I will calibrate it!
Update 11/15/19
The antenna is off azimuth. High winds had blown one of my VHF antennas into the path of the HF antenna, causing the HF antenna to get bound up on it. It happened during the CQWW contest back on October 24th. I went up on the roof and cleared the hang-up but did not realize at the time that the HF antenna was knocked off azimuth.
It's off azimuth enough that it requires another climb up on the roof for correction. I've put an offset in the controller for the time being to make it line up temporarily.
Update 03/04/20
I'm on vacation and finally had some time to go up on the roof and aim the antenna for a north center of rotation. The antenna is pointing in the right direction and I have the fantastic advantage of the north center. This means I can get to where I need to be a lot faster than I could before. Just in time for the ARRL DX Contest this weekend! The Green Heron controller also plays nicely with DXLab.
The Green Heron owners manual was spot on and easy to understand so I was able to get it calibrated quickly.
It's Time For A Change
change south to north center of rotation
When I first installed the HF antenna I aligned it north for a "South Center of Travel". I quickly learned that in order to turn from Europe to Japan (a direction I often travel) the antenna had to travel nearly the entire range of rotation to get to JA land. It didn't bother me enough to change it, and I have operated that way since 2004.
With the addition of the Green Heron RT-20, and the need to correct the antenna's physical azimuth, I have decided to make the change to a "North Center of Travel" as this is really what makes the most sense for my location. This will enable me to point in any direction without all the 'extra travel'. Also, by utilizing the 90 degree overlap, I'll also be able to point to VK/ZL turning from South America without any excess travel. I should have had it this way from the start. So I'll leverage this opportunity to finally set it right.
Green Heron RT-20 Standard Description:
The RT-20 is a universal digital rotator controller that can be user configured for motor voltage and position feedback. RT-20 configuration is accomplished by a combination of PCB jumpers and software settings, there's no soldering or major disassembly required. This flexibility allows the RT-20 to operate any commercial amateur rotator being built today, and virtually any rotator ever built.
Why upgrade your controller?
The addition of an RT-20 will add modern functionality to your rotator:
RS-232 control
High resolution digital display
Point & Shoot hands off operation
In most cases, improves heading accuracy
In most cases, adds PWM speed control and gradual start/stop to your system eliminating tower and rotator stresses
The RT-20 manual contains separate pages detailing the setup, hookup and calibration of 14 of the most common rotators in use. Additional resources are available from Green Heron in the form of applications notes, that detail less common or custom requirements.
Common Rotators Supported and Documented in the Manual:
Hy-gain HAM series, T2X and HDR-300
Create RC5 series
Yaesu All models
Orion 2800 and 2300 models
TIC RingRotor
Prosistel
Alfa-Spid
Alliance HD-73
Rotor Doctor (CATS)
Diawa MR-750/MR-300
Specifications:
Size/Weight
Approx 4" x 8" x 7" HWD
(Not including rear terminal strip)
Approx 8 lb – Shipping = 11 lb
Input Power
115/230 VAC 50/60 Hz
Standard IEC power connector
and 5x20mm GMA fuse
Display
High contrast Yellow-Green backlit FSTN LCD
Eight brightness levels w/auto-dim
Front Panel Controls
CCW, CW and CANCEL buttons (Operating)
SAVE, CHANGE, SETUP buttons (Setup)
Point and Shoot knob (360º = full rotation)
Motor Power
(Selectable voltages @ 5A)
18 to 36 VAC
12 to 48 VDC
115VAC (call)
External Relay Control
CCW and CW DC relay control (12V or 24VDC relays)
various configurations
Operating Modes
Normal, Master/Slave, Master/Counter Rotate, Slave/Counter Rotate, Debug, Alt Offset
Selectable Options
(specific Rotator Settings)
POT, Counter, HAMx, T2X, Orion,
TIC-PST, SPID
Position Feedback
Mechanisms Supported
Potentiometer 150 Ohm to 10 kOhm
Variable resistor 500 Ohm (Others accommodated with minor modification)
Proximity/reed switch or Hall effect up to 64 pulses/degree (divide ratio up to 23,500)
2-Bit rotary relative encoder (special order)
Others possible
Position Accuracy
Up to 1/3º for potentiometer
Up to 1/10º with proximity/reed switch
Brake and Reversal Delays
Soft Limits
+/- 180º from normal stop
Restricts rotation to zero or opens to 720º
Motor Speed Control (PWM)
10% to 100% in 10% steps with 10 selectable start/stop ramp settings
100% no ramps
Computer Control
Compatible with all DCU 1 enabled programs
Expanded Protocol for GH Tracker and SETUP UTILITY (See manual)
Configuration
User changeable in minutes with no soldering
Protection
No Motion feedback
Pot out-of-range (TIC-PST Option)
Counter Range Error (Orion, SPID, Counter)
Industrial rated Transient Voltage Suppressors on all external terminals
Rear Panel
8 Position barrier strip #6-32
Ground stud #6
Cable strain relief
DB-9 RS-232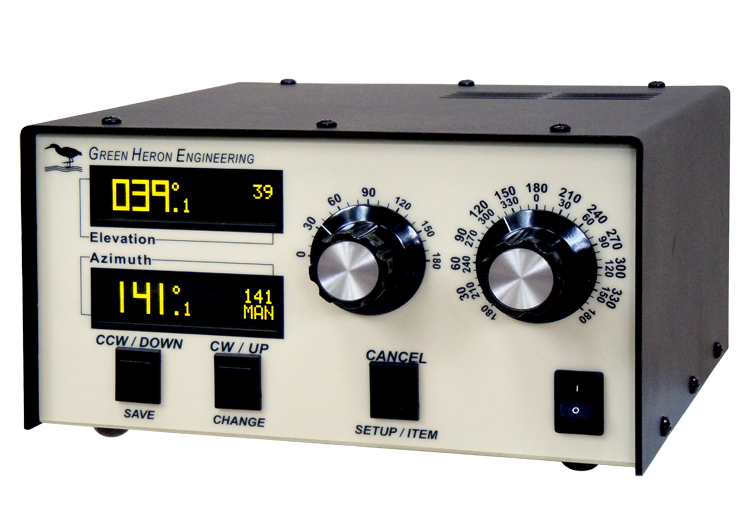 Maybe I can get the word to Santa Claus!