One Step Beyond SO2R
For all intents and purposes, my SO2R operation is self-contained. I use a Flex 6700 dedicated to SO2R operation. I'm operating through an SPE Expert 1K-FA amplifier. This allows using two TX antennas and a wideband RX Magnetic Loop antenna. I enjoy fully automatic operation utilizing one Flex SCU (Spectral Capture Unit) per TX antenna. Really a perfect setup! This configuration has now been thoroughly tested and fine tuned to my operating preferences. Battle tested in contest with more multi band contacts than was ever possible for me while working manually. (the M word). In comes the EA4TX AS2x2 switch to enhance station operation.
I can now freely operate on any band at any frequency, and always have the lowest SWR and the appropriate drive level set automatically. We all know nobody has time to wait around for you to tune up during a contest! You've got to be there or be square!
Flex 6500: Dedicated To Digital
Now that I have the SO2R contest station squared away, I've turned my attention to the Flex 6500. I have MMSSTV running on 14230, EasyPal on 14233, and two instances of WSJT-X running on any two of any of the other bands that may be open, 24/7. I can work digital modes back and forth between any two bands with a click of the mouse.
For that matter I can also TX from any of the running programs with a single click thanks to the Flex DAX TX feature that switches the TX slice automatically. Combine that with a multiband antenna, and the possibilities are endless!
Watch That Front End!
So now that the digital station is setup and running what's the problem? Well it's not a problem yet, but very well could be.
The Flex radios have some built-in protection for the front end of the radio, but it would not be wise to count solely on that feature for complete RX front end protection. In the SO2R setup I added an Array Solutions RXFEP on the RX only antenna to protect the RX when the amplifier is not in operation to switch the RX only antenna automatically. When the amp is off, I have an extra level of protection.
With the 6500 running 24/7 digital modes it would not be hard for me to imagine accidentally TX 'ing at 1,000+ watts while forgetting the other radio is nearby in RX mode (aka an 'Inband Radio'). It would just be a matter of time before this type of accident would take place. I could easily make this mistake, so I must add a level of protection against it. In a multi-transmitter environment this is a requirement.
EA4TX AS2X2 Antenna Switch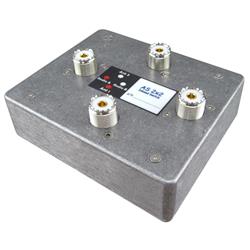 I researched several antenna switches for the purpose of disconnecting the Flex 6500 antenna when the SO2R contest station is transmitting. Keep in mind I need to be able to transmit 100 watts through the switch. I quickly learned that the the first two "RX Antenna Switches" were not intended for use where the second radio is also a transmitter. Instead they were designed to switch out a receiver only. You cannot transmit back through the second RX port. So the first two switches were eliminated.
I came across the EA4TX AS2X2 and found it could handle 200 watts. It is not an RX only switch, it is a two port switch designed for switching (or exchanging) two antennas (TX and/or RX) between two radios. I'll only need one side of this switch as I only need to disconnect the Comet CHA-250B antenna, not necessarily switch it with another.
I purchased the EA4TX ARS-USB rotor controller and have been very happy with its quality and performance, so another EA4TX product is welcome. Yes, I saw the single star review. I'm not worried because I know DX Engineering stands behind what they sell, as pointed out in the review.
UPDATE: The AS2x2 arrived today and is now installed at the antenna input of the Flex 6500. Whenever the Flex 6700 is in TX, the antenna to the 6500 is disconnected. Better to be safe than sorry.
Back To The Front